Winner Site
GCAS publishes here a small selection of their winners, who gave us permission. If you as one of our winners, would like to be removed from this list, please send us an email. We fully respect the privacy of our clients.

---

From Claudio Castagnoli:
Daniel Leuthardt
From Erika Pfäffli:
write us
this PDF

Thanks GCAS for making such a wonderful difference
in our lives!!
Read more ...
Hello Mr. Pfeiffer!
Sorry, it took such a long time…. I now live in Leesport, PA, just bordering Bernville. Thank you so much for your support! If you have any questions or I can help somehow, please let me know.
Best regards from the USA,
Claudio Castagnoli
Hello Matthias,
finally after 6 months best regards from Florida. I am sending you a picture of Peter's dream (his own knife and tool shop) and a news- paper article. We are happy and healthy, appreciating the lower fall temperatures now.
Again, thank you very much for everything. Erika and Peter

---

From Franziska Gsell:
Winner Seminar
From Reto Kaufmann:
Our Winner
Seminare as PDF

Read more ...
Hello Mr. Pfeiffer,
received your letter last week that I won. UNBELIEVABLE!! Attached I am sending you the photo for your website.
With best regards,
Franziska Gsell
After a few problems in the beginning, we finally succeeded in getting our greencards due to the knowledge and support of Mr. Pfeiffer from Greencard Application Service.
Reto Kaufmann, Switzerland

---

From Reto Müller:
Sarigoezoglu, Dursun
From Silvio Kittelmann:
So many years after winning the greencard Mr. Pfeiffer from GCAS is still giving advice to me and my family.
Reto Müller,
Greencard Winner 1998
Simply great,
Mr. Pfeiffer!
I have been dreaming
of this for a long time.
Hello Mr. Pfeiffer
On this occasion I would like to thank you very much for all your support in the whole process. You have fulfilled a dream from me. With best regards, Silvio Kittelmann

---

From Annalise Bruder
Our Winner
From André Müller:
Dear Matthias,
Without your support I would have never received my green card. Your professional knowledge with regards to o-net-qualifications is absolutely incredible and you have realised my dream to live in the USA. I am so happy here now and want to thank you for all that you have done. It was more than worth to use your support service to participate in the green card lottery, because you are truly professional. Annalise Bruder, Nicolaus, CA 95659, USA.
Dear Mr Pfeiffer
I received your message today that I won the greencard. I can still not believe that I am amongst the winners. Still have to sleep it over hoping that it had not just been a dream. I am so happy about this and hope that we can soon meet to discuss the further steps.
Thank you so much,
André Müller

---

---

From Thomas Vögeli:
From Mr. Kastenholz:
Hi Matthias
I just wanted to say hello and ask how things are. On my side, everything is ok now and I proudly have my US-passport finally. The first entry end of april with the passport has been so much smoother, no questions at all and almost no cueing. It was really worth it and I would like to thank you very much for your support over the past seven years also in the name of Sandra. The US-experience was more than worth it and without your help it wouldn't have been so easy. As offered bevore many times, I would like to repeat: If you or anyone needs my input or experience, just contact me. If I can only return a bit of what you did for us, I would be glad to do so. See you soon and best regards,
T. Vögeli, CMP
When applying for the 10th time I already said to myself, that this time would be the last one. But I applied two more times and as it looks now, it was worth continuing. When I saw the envelope from GCSS in the mail, I thought, oh my God, again not selected. But then I detected the A-Mail-Sticker and I began to realise that this could not be the usual Non-Winner notification. I was so excited when I opened the envelope and when I read "Congratulations" I could not believe my own eyes. I had to read the letter several times and the more often I read it, the more joy I felt.
Thank you very much, Mr Pfeiffer, for the many years of support until today.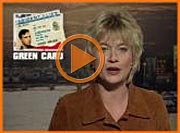 Broadcasting 04.08.1998

(4:37)
Presenter: Vanessa Nikisch
Matthias Pfeiffer from Green Card Support Service surprises together
with Tele Züri some Greencard winner.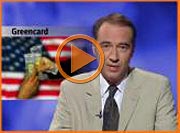 Broadcasting 25.05.99

(3:48)
Presenter: P. Röthlisberger
Peter Röthlisberger and Matthias Pfeiffer in Swiss Info from Tele 24 during the surprise of further
greencard winner.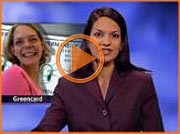 Broadcasting 23.06.00

(3:21)
Presenter: Simone Falb
Together with TeleZüri we surprise more greencard winner and make a short interview with our former green- card winner Monika Metzler, who now has her own angels-shop in the USA.